A highlight of Adaptive Events 2015
OhioWheelchair.com is dedicated to those who base their lives on wheels.
We try to communicate with our peers and learn from those who have succeeded.
Many events sponsored by various adaptive support groups have happened
throughout Ohio... here are some highlights to review and share the story.
Did we miss something? Please help us keep our list current
@@@@@@@@@@@@@@@@@@@@@@@@@@@@@@@@@@@@@@@@@@@@@@@@@@@@@@@@@@@@@@@@@@@@@@@@@@@@@@@@@@@
​


13th Annual Columbus Collision Wheelchair Rugby Tournament
https://www.facebook.com/events/1050732998343155/
December 5 - December 6
at the Cleo Dumaree Athletic Complex in Columbus, Ohio
Participating teams were:
Ohio Buckeye Blitz
Akron Rhinos
Pittsburgh Steelwheelers
Chicago Bears
Great Lakes Clippers
Grand Rapids Thunder
WNY Wreckers
TIRR Texans
Adaptive Sports Program of Ohio's wheelchair rugby team, the Buckeye Blitz is hosting a regional tournament in Columbus, Ohio.
http://usqra.org/OhioBuckeyeBlitz
http://adaptivesportsohio.org/
@@@@@@@@@@@@@@@@@@@@@@@@@@@@@@@@@@@@@@@@@@@@@@@@@@@@@@@@@@@@@@@@@@@@@@@@@@@@@@@@@@@
​Three Trackers of Ohio
hosted another Adaptive Kayaking - INDOOR​

Sunday, December 6th at the
Middleburg Hts Rec Center main indoor pool
​in Middleburg Hts
@@@@@@@@@@@@@@@@@@@@@@@@@@@@@@@@@@@@@@@@@@
Three Trackers of Ohio
Adaptive Kayaking - INDOOR​

Sunday, November 8th 11AM - 1PM
and
Sunday, December 6th 11AM - 1PM

Middleburg Hts Rec Center main indoor pool
​16000 Bagley Road, Middleburg Hts
Three Trackers are expanding their season from just snow to year round adaptive activities - keep checking out their website!
@@@@@@@@@@@@@@@@@@@@@@@@@@@@@@@@@@@@@@@@@@
Buckeye Governors' Cup Wheelchair Basketball Championship
Nov 7-8, 2015 at the Cleo Dumaree Athletic Complex
279 S. Nelson Rd., Columbus, 43205.
http://www.columbus.gov/recreationandparks/athletic-complex/Cleo-Dumaree-Athletic-Complex-(Updated)/
Congrats to all who competed and supported the event!
Teams included:
Detroit Diehards - 1st Place Winners
Fort Wayne Bandits - 2nd Place winners
Pittsburgh Steelwheelers - 3rd Place winners
Buckeye Wheelers
LWRSA Hawks
Moraine Minutemen
RHI Pacers
@@@@@@@@@@@@@@@@@@@@@@@@@@@@@@@@@@@@@@@@@@
Factory of Terror - Wheelchair Accessible Haunted House
Located in Canton Ohio
by Casey Miller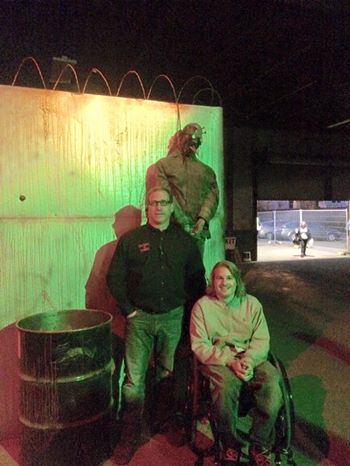 My name is Casey, I am a fellow cripple (level T2-T3). I live in North Eastern Ohio and after 6 years, I finally got to go through a haunted house. It is now October and Halloween is right around the corner. It isn't like you could avoid it. Decorations, costumes and candy are in every store and almost every neighborhood yard looks like a graveyard. I'm all for going "all-out" for the holidays but this was only a reminder to me that my friends will be telling me all about the haunted houses that they went to. I'd hear all about how scary or cheesy they were, what crazy costumes they had, how freaky the clowns were, how big the animatronics were, but most of all, how sorry they were that I couldn't join. I appreciated the kind words, but it only reminded me that there was one more thing I couldn't experience all because it wasn't wheelchair accessible. I had accepted the fact, or at least what I thought was a fact, that I'd never be able to go to a haunted house because the tight hallways and the sharp corners would never be suitable for a wheelchair of any sort. Now, people that know me personally know that I try my best to not be what some would call a "Debbie Downer" but I couldn't help but get a little depressed sitting at home alone every year while my friends went out together to create new and fun memories. A place called the Factory of Terror owned by John Eslich changed that for me completely. An awesome foundation named Wishes Can Happen donated the tickets to me because I was a wish recipient in the past. They sent me to Orlando for the best week of my life, but that is a completely different story. As for the Factory of Terror, I was pretty skeptical of it… no, sorry I was VERY skeptical when I first heard that it was wheelchair accessible, but everyone kept reassuring me that it was (and it is). I still didn't want to get my hopes up because as anyone else in a wheelchair knows, you cant trust an able-bodied person when it comes to them telling you "this place is accessible" (lol). Even though I was questioning this place, I was still very excited by the thought of being able to finally enjoy a haunted house. I invited my brother, girlfriend, and two friends to join me and we made the drive down to Canton.
When we got there we noticed that it was a massive abandoned factory, so I knew it wasn't going to be the easiest to get into. Even though this was true, they were incredibly willing to help me with ANYTHING as long as the result meant me inside the building. Once I was in I was greeted by many Hollywood movie quality Halloween statues, mannequins, props and robotics. It was amazing. We were also greeted by a really cool employee that helped give me the general idea of what was going to happen. A supervisor would be with my group the whole time we were there just in case we needed some extra help and so they could give as warnings for when the next ramp, tight turn or obstacle was coming up. There are multiple "shows" in the haunted house. Each have a different theme and they take about 15 minutes a piece to go through. There would be certain little sections that I wouldn't be able to go through but when I say little, I mean little. The one I remember the most was at the very end of a show. It was a small tube that you crawl through to exit the show. I couldn't do that so they guided me to the "easy exit" door and I was totally fine with that. There was another show that had a mirror maze theme to it. Their fear was someone in a wheelchair getting a little confused as to what was a mirror and what wasn't (thats the purpose of a mirror maze) and potentially running into a mirror or two and hurting themselves and or others on accident. As a safety precaution they don't let wheelchairs in that show. I wasn't thrilled about that but I could understand it for sure. Something I should probably include is that they said they weren't used to the type of person that is "skilled" with a manual wheelchair. Most of the disabled people that come to the Factory of Terror come in motorized wheelchairs. So, my best advice if you plan on going and you're a "skilled" manual wheelchair user (if you can hold a wheelie, move around in a wheelie, easily go down very steep ramps and have good control of the chair in general, you are skilled to them), you should tell them that.
There isn't much more to say other than I had an AWESOME time there. The owner talked to me for a while after we were all done. He told me about his favorite machines and statues that he has at the haunted house and also included a free t-shirt through Wishes Can Happen which was pretty cool. We even hung out near the entrance to watch people have the crap scared out of them by a jump-scare machine they have. I thanked him from the bottom of my heart and did my best to get it through to him that it means the world to me and fellow wheelchair users when business owners who, keep in mind in this specific situation was NOT required to make the business wheelchair accessible, chooses to do so anyways. This is all thanks to John Eslich, who I mentioned earlier. At the least, you should check them out. Their address is 4125 Mahoning Rd NE, Canton, OH 44705, their phone number is (330) 455-3327 and their website is www.fotohio.com
Factory of Terror - Wheelchair Accessible Haunted House
Located in Canton Ohio
4125 Mahoning Rd NE, Canton, OH 44705,
(330) 455-3327
www.fotohio.com
@@@@@@@@@@@@@@@@@@@@@@@@@@@@@@@@@@@@@@@@@@
. Ohio University student sled hockey players skate in the world spotlight
http://www.thepostathens.com/news/ohio-university-student-sled-hockey-players-skate-in-the-world/article_97c8b9ea-7e6d-11e5-b81f-539e40fc7dd2.html
Posted: Thursday, October 29, 2015 7:30 pm | Updated: 1:40 pm, Fri Oct 30, 2015.
Madeleine Peck | For The Post
When walking into Bird Ice Arena, most people might expect to find hockey players gliding with skates on their feet, wielding large hockey sticks.
On Wednesday afternoon, however, two men in metal sleds were in the arena, propelling themselves across the ice with two small sticks while wearing helmets with a Team USA decal on them. One of them, Sam Mumper, has even scored a goal against Germany in an international competition.
Ohio University students Mumper and John Mollica practiced sled hockey at Bird Arena this past week for first time this year. Both Mumper and Mollica, as well as fellow Bobcat Cierra Giehl, have played the sport competitively.
Mumper said sled hockey is similar to stand-up hockey, except that players sit on a sled and propel themselves with two smaller hockey sticks.
The players have also represented the United States with their athletic abilities. Mumper and Giehl have played sled hockey for the U.S. Men's National Team and U.S. Women's National Team, respectively. Mollica has also played on the men's national developmental team.
The three of them have also been involved in Ohio United, a club sled hockey team based out of Columbus.
Mumper, a junior studying accounting, got involved with the sport after being diagnosed with Legg-Calvé-Perthes disease at age 9, which didn't heal correctly. The disease is a blood disorder that affects the hip.
"I met someone at physical therapy who played, and he kinda dragged me to a practice and it kinda took on a life of its own from there," Mumper, a defenseman, said.
@@@@@@@@@@@@@@@@@@@@@@@@@@@@@@@@@@@@@@@@@@

Team River Runner Adaptive Kayaking
Fall Colors Paddle 2015

Rain and Snow did not scare away the paddlers who showed up October 18, 2015 at LaDue Reservoir.
Team River Runner NE Ohio Chapter and Three Trackers of Ohio enjoyed a 36 degree day outside playing on the water.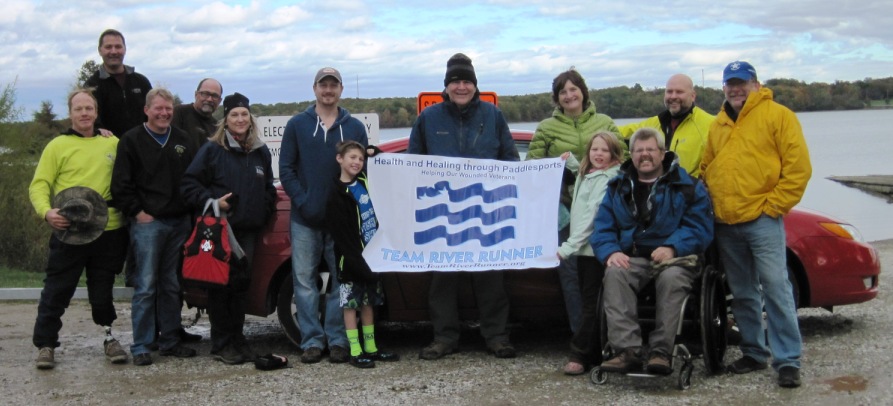 Click on any image to enlarge!
Thanks to all who supported this event!!
Stay tuned on facebook for any further
Team River Runner NE Ohio events
https://www.facebook.com/Team-River-Runner-NE-Ohio-322882994474685/
or
Three Trackers of Ohio events
https://www.facebook.com/3trackersofohio?fref=ts
Want to try Adaptive Kayaking?
Are you a veteran that is interested in trying Kayaking?

Contact Justin Jeffers at Justin.Jeffers@TeamRiverRunner.org or
Cory Anderson at Cory@TeamRiverRunner.org for more info and interest..
@@@@@@@@@@@@@@@@@@@@@@@@@@@@@@@@@@@@@@@@@@

The First Annual
"Veterans Kayak Football HOF Challenge"
Team River Runner hosted the first annual Kayak Football event for the Pro Football Hall of Fame weekend at
Willowdale Lake Country Club in North Canton, Ohio on August 9th, 2015


http://www.teamriverrunner.org
http://kayakfootball.com

8 Veteran Kayak Football Teams competed in the ultimate Kayak Football Tournament at the Football Hall of Fame in Canton, Ohio!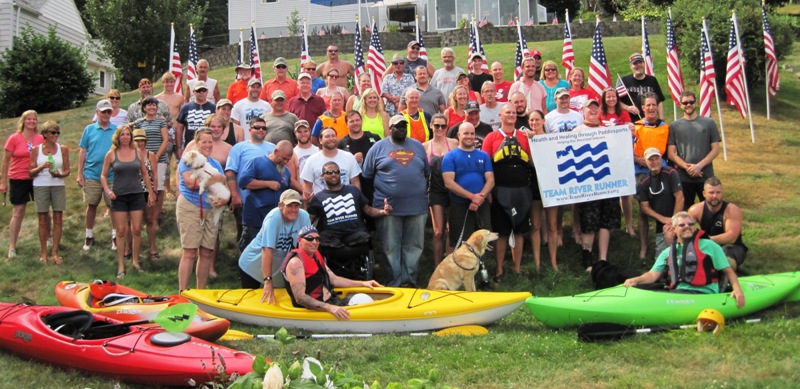 (Click on image to enlarge)
The First Annual "Veterans Kayak Football HOF Challenge"
was a tournament for Disabled Veterans to participate in the competitive water sport of kayak football.
Eight teams played in a round robin format with the ultimate goal of winning the championship.
The tournament took place during the Pro Football Hall of Fame weekend
at Willowdale Lake Country Club in North Canton, Ohio on August 9th, 2015.
The teams came in from five states, and were welcomed to our community.
The Blind Bastards
The Blind Bastards are an independent team associated with Walter Reed Army Medical Center in Bethesda, Maryland. Their team captain is Joe Mornini. You can bet with a name like that they were interesting to watch.
TRR - Southeastern PA
The Southeastern Pennsylvania chapter of TRR is based out of West Chester. Their team Captain is Jim Riley. Being close to Philadelphia They brought a lot of attitude.
TRR - Eaton Rapids
The Eaton Rapids TRR chapter hails from lower Michigan, not to far from Ann Arbor. Their team Captain is Scott Fraser. I see a renewal in Michigan/Ohio hostilities with this team.
TRR - Shepherd
The TRR chapter from Shepherd University in West Virgina will be here. Their team Captain is Tracy Seffers. This group plays hard nosed football. That's why they have the nickname "RamRod".
TAASC - Columbus
The TAASC team comes here from Columbus. Their team Captain is Angela Meyer. Although this is a fairly new team, they're not new to kayaking. As long as they beat that team from up North all will be good.
TRR - Cincinnati
The TRR chapter out of Cincinnati will be coming in hot. Their team Captain is Jon Stone. Lets see if they can make Cincy the big brother city for once.
TRR - Walter Reed
The TRR Walter Reed team will be in from Maryland. Their Team Captain is Brandon Huff. This is a veteran team with lots of experiance in kayak football. Look for them to be a challenger for the cup.
TRR - NE Ohio
Our local chapter of TRR has their work cut out for them. Hailing from Cleveland, Ohio, they're led by Captain Justin Jeffers. I see potential rivalry games for these guys everywhere I look, so they better be ready for some serious kayak football.
Why We Did It?
This tournament was created to honor our Military Veterans in a fun and unique way and give these men and woman a chance to show what it means to adapt and overcome. At the same time, they weere introduced to an entire community to the world of competitive kayaking, through water sports. By watching these competitors, you learned all about Adaptive Ability and how
water can become the great equalizer in overcoming any disability.
This was a free event to come and watch,
Want to try Adaptive Kayaking?
Are you a veteran that is interested in trying Kayaking?

Contact Justin Jeffers at Justin.Jeffers@TeamRiverRunner.org or
Cory Anderson at Cory@TeamRiverRunner.org for more info and interest..
@@@@@@@@@@@@@@@@@@@@@@@@@@@@@@@@@@@@@@@@@@

2015 TRAS Water Sports Clinic
at Conneaut Lake
hosted on July 20 - 23, 2015
Check out the event review at -
Three Rivers Adaptive Sports
http://www.traspa.org/
@@@@@@@@@@@@@@@@@@@@@@@@@@@@@@@@@@@@@@@@@@
2015 ADA 25th Anniversary Celebration
July 22, 2015 at Wade Oval in Cleveland Ohio
Check out the event review below or follow the link at Cleveland.com
http://www.cleveland.com/business/index.ssf/2015/07/americans_with_disabilities_ac.html
CLEVELAND, Ohio – Cleveland celebrated the 25th anniversary of the Americans with Disabilities Act Wednesday, the landmark federal law aimed a breaking down barriers in employment and other areas.

The official celebration is taking place today until 4 p.m. on Wade Oval in University Circle. But for the millions of Americans living with disabilities, who have relied on the ADA to gain employment or fight discrimination, there have been countless individual celebrations for a quarter century.

"In the last 25 years we have made a lot of progress, but still there is a lot more work to do," said Melanie Hogan, executive director of Linking Employment, Abilities and Potential, or LEAP, which assists people with disabilities in living independently and finding jobs.

LEAP is part of ADA Cleveland, a coalition of local agencies and organizations formed last year to provide greater access and opportunity for people living with disabilities, organized the celebration.

When Hogan speaks of the challenges still facing people with disabilities, employment is a key area. For example:

Only 17.1 percent of people with disabilities were employed in 2014, according to Labor Department data released last month. In contrast, 64.6 percent of people without disabilities were employed.
More than 28 percent of non-institutionalized disabled people of working age live in poverty, according to a 2014 report by the U.S. Senate Committee on Health, Education, Labor and Pension. For people without a disability, 12.4 percent live in poverty.
The unemployment rate for people with disability was 12.5 percent in 2014, or about twice the figure of 5.9 percent for those with no disability, according to the Labor Department.
"It is the largest untapped labor pool we have right now," Hogan said. "(However,) I think that there is a very slow shift in perception and awareness about what the disability population can bring."

She said one of the major things that must change is the reluctance of many employers to give people with disability a chance. Often such employers see disabilities as presenting permanent obstacles, when she said many are often challenges that can easily be overcome. For example, a prospective employee, who has only worked in a sheltered environment designed for people with disabilities, may need time and training in transitioning to a regular workplace.

At the celebration, University Hospitals received the Employment Award for its commitment to hiring people with disabilities.

"They are a wonderful example because people with disabilities are fully integrated," Hogan said a few days before the event. "They are treated as regular employees of UH. Once they are hired, they get the same rate of pay. They are offered benefits there. They can participate in their educational programs.

"UH is a wonderful example of what true integration is all about because for people with disabilities, their disabilities are not seen first," she said. "They are seen as co-workers."

The hospital said, in a statement emailed to The Plain Dealer, that diversity is among its core values.

"University Hospitals is committed to celebrating the diversity and the unique abilities of its employees," reads the statement. "One of our workforce development initiatives is focused on providing and cultivating career pathways for individuals with disabilities. We have partnered with four local consumer agencies to identify strong talent who may be facing some employment barriers in relation to their physical or mental abilities.

"In collaboration with these agencies, we have created a unique pathway program that allows the participants to be assessed in a real–world environment with the support of a Job Coach and UH management," the statement continues. "After successful completion of the job assessment, UH offers each participant a transitional opportunity to be considered for our team where they will receive continued support for another year to hone their skills and grow into additional roles."

On July 26, 1990, President George H. W. Bush signed the ADA, which was based on the Civil Rights Act of 1964, into law. The bill was sponsored by U.S. Sen. Tom Harkin, an Iowa Democrat. Now retired, he is continuing to be honored on the law's anniversary, including serving as grand marshal of the Disability Pride Parade in New York City earlier this month. During July, communities throughout the country are holding celebrations in honor of the law turning 25.

Donna Prease of Cleveland, a grassroots advocate and peer mentor at LEAP, who attended the celebration, said the ADA has made a difference in the lives of people with disabilities.

"They have become independent," she said. "They live in the community. No one wants to live in a nursing home. They want to hold a job and support themselves."

Prease, who uses a wheelchair, has osteogenesis imperfecta, which causes her bones to break easily.

"They tried to tell me my bones were like chalk," she said. "I say they are like fine china."

The Cleveland celebration included a performance by the Dancing Wheels Company, a group of professional performers including those with and without disabilities. Awards were given to people who and organizations that have championed fulfilling ADA's mission. Speeches and other presentations advocating for the rights of people with disabilities were also part of the celebration.


Prease summed up the sentiments many have about the ADA.

"It says we can do it, and we can," she said.


ADA Cleveland
2545 Lorain Avenue
Cleveland, Ohio 44113
Phone: 216.696.2716

Learn more at
www.ADACleveland.org
@@@@@@@@@@@@@@@@@@@@@@@@@@@@@@@@@@@@@@@@@@
2015 Buckeye PVA
Wheelchair 8-Ball Classic

Congratulations winners of the Buckeye PVA Billiards Tournament!
Pete, Al, Terry in First Flight and Tony, Robert and Scott in the 2nd Chance. Hope to see everyone next year.



Hosted by the Buckeye PVA at the
Cloverleaf Lanes
July 17-18, 2015
Go to the BPVA website for more photos and review of the event
http://www.buckeyepva.org/
@@@@@@@@@@@@@@@@@@@@@@@@@@@@@@@@@@@@@@@@@@


18th Annual Water Sports Weekend
Hosted - June 19-21, 2015
Check out their website for event review -
@@@@@@@@@@@@@@@@@@@@@@@@@@@@@@@@@@@@@@@@@@
2015 Buckeye Wheelchair Games
Hosted - May 2015 in Geneva Ohio
Sponsored by the Buckeye PVA and the SPIRE Institute
Check out the BPVA Website to event review video
@@@@@@@@@@@@@@@@@@@@@@@@@@@@@@@@@@@@@@@@@@
2015 National Disabled Sled Hockey Festival
April 12, 2015
Congratulations to the Pittsburgh, Pennsylvania - Mighty Penguins - Sled Hockey Team
Adult Open A Champions for the 2015 National Disabled Sled Hockey Festival!
http://www.penguinssledhockey.org/
https://www.facebook.com/pages/Mighty-Penguins-Sled-Hockey/144764708970644?fref=photo
Congratulations to the Ohio United team for their second place during this event!!
https://www.facebook.com/OhioUnitedSledHockey?fref=ts
Congrats on all of the teams who participated with this event - and best wishes to their continued ambition.
@@@@@@@@@@@@@@@@@@@@@@@@@@@@@@@@@@@@@@@@@@



2015 Team River Runner NE Ohio
February gathering

February 22, 2015
LifeCenter Plus
5133 Darrow Rd. Hudson, OH 44236
http://www.lifecenterplus.com/
Special thanks to LifeCenter Plus for hosting the event, the Volunteers who supported helping the Veterans
and the Veterans who participated with this event to make it a success!!
Happy and Safe Paddling Team River Runner!!
@@@@@@@@@@@@@@@@@@@@@@@@@@@@@@@@@@@@@@@@@@



2015 Ms Wheelchair Ohio - America

Congratulations Jasmine Spradley
Jasmine Spradley is a Psychology major and at Wright State University seeking to be a therapist for families and married couples.
She was raised in Piqua, Ohio by two amazing parents and had three brothers. Her disability called Osteogenesis Imperfecta, is a genetic condition which produces fragile bones and a short stature. Jasmine depends on a power wheelchair for her mobility needs and has grown up taking precautions to avoid injury from her already weakened bones.
In 2013, Jasmine received her Associates Degree from Edison Community College and will receive a Bachelors Degree in May 2015 from Wright State University.
2015 Ms. Wheelchair Ohio pageant
was held at
Wright State University
on
February 22nd, 2015
Congrats to all of the ladies who participate with the 2015 event!!
To see more photos and stories of this event - go to the
Ms Ohio Wheelchair America Facebook

https://www.facebook.com/MsWheelchairOhioAmerica

@@@@@@@@@@@@@@@@@@@@@@@@@@@@@@@@@@@@@@@@@@

Ohio United Sled Hockey - Cleveland Mighty Barons

hosted a
Come Try Sled Hockey
for Free

February 14th, 2015
at the

Mentor Civic Center Ice Rink
8600 Munson Road, Mentor, OH 44060
For more info on upcoming events - please contact - Brian Knotts
clevemightybarons@yahoo.com

@@@@@@@@@@@@@@@@@@@@@@@@@@@@@@@@@@@@@@@@@@

2015 Youth Challenge Ski Day at Brandywine Ski Resort
Hosted on February 8, 2015
by Three Trackers of Ohio and Ohio Youth Challenge
(Click on any image to enlarge)
You can find more photos and video from this event on each of the facebooks below!!
Awesome job to all who participated and volunteered!!
Three Trackers Facebook
https://www.facebook.com/threetrackers.ohio?fref=ts
Youth Challenge Facebook
https://www.facebook.com/YouthChallengeSports?fref=photo


@@@@@@@@@@@@@@@@@@@@@@@@@@@@@@@@@@@@@@@@@@


1st Annual Peacock Ball


Hosted at the National Packard Museum in Warren, OH.

This event an evening of dancing, food and fun while learning about the different disabilities.
Earth Angel Farm hosted the first annual PEACOCK Ball
on
Saturday, February 7, 2015

The Peacock Ball brought together like-minded nonprofits and organizations
whose main goal is to improve the lives of people living with disabilities.


@@@@@@@@@@@@@@@@@@@@@@@@@@@@@@@@@@@@@@@@@@




TAASC Veteran's Alpine Skiing and Snowboarding
February 6, 2015 at
Snow Trails
http://www.taasc.org

@@@@@@@@@@@@@@@@@@@@@@@@@@@@@@@@@@@@@@@@@


TAASC 2015 Winter Sports Challenge
January 31, 2015 at
Snow Trails Resort
http://www.taasc.org
@@@@@@@@@@@@@@@@@@@@@@@@@@@@@@@@@@@@@@@@@
Congratulations
Ohio United Sled Hockey Team
Undefeated at the 2015 Ohio Tournament
hosted on January 5-6, 2015 in North Olmsted Ohio
Teams there included:
Ohio United
Pittsburgh PA
Fort Wayne Indiana
Detroit Michigan
Grand Rapids Michigan
@@@@@@@@@@@@@@@@@@@@@@@@@@@@@@@@@@@@@@@@@
2015 Ms. Wheelchair Ohio USA
Congrats to Amanda Young
our 2015 Ms. Wheelchair Ohio (USA)

Amanda Young was crowned Ms. Wheelchair Ohio USA 2015
on Saturday, November 15, 2014.